CLICK HERE TO ADD YOUR COMPANY
ADVERTISER SUCCESS STORIES:
John Graziano - Precision Welding & Fabrication "Leads through your premium brander plan has been significantly higher than with other natural search online marketing vehicles making the renewal decision easy. It also helps our own website rank to be linked from a well themed portal"
Marc Neulight - NeuChem, Inc. "Your store front plan and service is about as good as one could ask for. Thank you very much."
Thomas Ancel - Beacon Industries, Inc. "You are one of the directory guys who 'really' understand what search engine optimization means! The custom deep landing page links and profiles features facilitate excellent natural ranking and leads."
Dean DellaCecca - DURAFLEX, Inc. "One of our best listings, ever! A very successful advertising program, which we plan to expand on."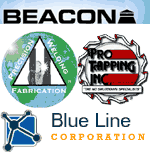 Charlene Miller - Pro Tapping, Inc. (Medford, NJ) "After signing up for your service, we communicated the need for additional product headings in your categorization, since we felt that our service is not completely understood or utilized by the industry. You carefully analyzed and responded to our need promptly. I am amazed and floored. Most companies I deal with take months for such a process and response. Awesome is too slight a word for such service!"
Saurabh Thakkar - Shreepad Engineering Co. "We are glad to renew our listing, considering the great inquiries and actual orders through our past year registration. We are particularly impressed with the constantly updated nature of your directory."
Dileep Salgaokar - Manshan Industries "We listed our company on June 24th, 2004 and received an inquiry from ISRO the very next day. We did not imagine that your directory would generate leads so fast!"
Ashwin Rathod - Goodrich Gasket "Simply amazed! We received 10 business enquiries within 10 days of registering in your directory!"
Harish Doshi - Javico Industries "Just wanted to drop a note to inform you that we are regularly receiving a stream of inquiries through your portal. We are highly satisfied and hope to renew advertising with you for years to come."