Profile: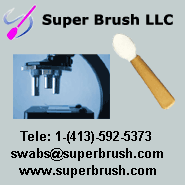 Super Brush LLC is a supplier of premium quality, foam tipped applicators and brushes to the cosmetic industries. We develop a full range of multi-purpose swabs and applicators. Our products are designed for use in chemical and drug application, cell collection, forensic evidence collection & processing, probing, adhesive applications & endoscope cleaning.
Medical Swabs
Our foam swabs are an important part of the healthcare industry. With our various handle lengths and shapes, Super Brush is definitely going to have the necessary foam swab to include in surgical preparations kits, for wound care applications, or for medical device cleaning or inspection. Our medical swabs also provide with the best, lint-free application tool available. R&D and custom design is also available.
Cosmetic Swabs
We design and manufacture unique cosmetic applicators that offer a complete range of distinctive foam head styles, supple and easy to use. Our exciting new products include, Tweenies™, Spa-Swabs™, Swab-its Essentials™, and the Swab-its Smudger/ Blender™. Our R&D department continues to work with customers to provide creative designs and manufacturing solutions developed to meet their unique applications.
Critical Care Device Swabs
Our Critical Care Device swabs are the perfect tool to clean sensitive surfaces. The non-abrasive swabs are designed for use on critical optical surfaces. They are great at removing specks and debris and can be used wet or dry. Our swabs are made with sturdy polypropylene handles and non-woven wiper or polyurethane foam heads. The CCD swabs are lint-free and leave behind no particles. Our CCD swabs come in a variety of head sizes, handle lengths and handle colors. We also offer custom products and private-labeling.
FDA Registration Number: 3008195902
Medical Swabs | Cosmetic Swabs | Critical Care Device Swabs
8 Products/Services (Click for related suppliers)
•
•
•
•
• (FDA Code: KXF / 880.6025)

An absorbent tipped applicator is a device intended for medical purposes that consists of an absorbent swab on a wooden, paper, or plastic stick. The device is used to apply medications to, or to take specimens from, a patient.
• (FDA Code: KXG / 880.6025)
•
•
Edit or Enhance
this Company (
226
potential buyers viewed listing,
57
forwarded to manufacturer's website)