Profile: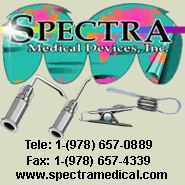 Spectra Medical Devices, Inc. is an OEM manufacturer of Custom Tray Components and Instruments. We specialize in Custom OEM Needles, Surgical and Dental Disposable Instruments. We are an ISO 9001 certified company. We provide Complete Engineering and R&D Services.
With Metal or Plastic Stylet
Funneled, tapered luer hub permits easy entry of catheters
Fixed wings for positive control and sensitivity of insertion
Removable wing style available Markings on outer cannula indicate exact depth of insertion (optional)
Heel of bevel dulled to reduce possibility of catheter shearing
Matched stylet minimizes undesirable leakage
Custom Sterile Packaging Available
Disposable, single use
Available with depth markings
Bevel orientation indicators
Heel of bevel dulled to reduce possibility of catheter shearing
Stainless cannula with chrome or nickel plated hubs/caps
We also offer glass syringes, strap clips and surgical disposables, such as scalpels & blades. Our surgical product line includes scissors, sutures, trocars and general instrument. Our Custom Needles are made with stainless steel material. We also provide Hypodermic Tubing & Wire with standard and tight tolerances.
The company was founded in 1995, has revenues of USD 5-10 Million, has ~20 employees.
FDA Registration Number: 1224960
• (FDA Code: FPA / 880.5440)

An intravascular administration set is a device used to administer fluids from a container to a patient's vascular system through a needle or catheter inserted into a vein. The device may include the needle or catheter, tubing, a flow regulator, a drip chamber, an infusion line filter, an I.V. set stopcock, fluid delivery tubing, connectors between parts of the set, a side tube with a cap to serve as an injection site, and a hollow spike to penetrate and connect the tubing to an I.V. bag or other infusion fluid container.
•
•
•
•
•
•
•
•
•
•
•
•
•
•
•
•
•
•
• (FDA Code: KEW / 864.3010)

Tissue processing equipment consists of devices used to prepare human tissue specimens for diagnostic histological examination by processing specimens through the various stages of decalcifying, infiltrating, sectioning, and mounting on microscope slides.
• (FDA Code: KEW / 864.3010)
•
•
•
•
•
•
•
•
•
•
•
•
•
•
•
• (FDA Code: HEE / 884.5100)

An obstetric anesthesia set is an assembly of antiseptic solution, needles, needle guides, syringes, and other accessories, intended for use with an anesthetic drug. This device is used to administer regional blocks (e.g., paracervical, uterosacral, and pudendal) that may be used during labor, delivery, or both.
• (FDA Code: FMF / 880.5860)

A piston syringe is a device intended for medical purposes that consists of a calibrated hollow barrel and a movable plunger. At one end of the barrel there is a male connector (nozzle) for fitting the female connector (hub) of a hypodermic single lumen needle. The device is used to inject fluids into, or withdraw fluids from, the body.
•
•
•
•
•
•
•
•
•
•
•
•
Edit or Enhance
this Company (
2763
potential buyers viewed listing,
640
forwarded to manufacturer's website)