Profile: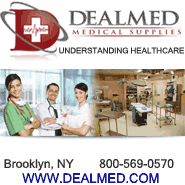 Dealmed medical supplies is a distributor of a full line of general medical supplies including disposable medical supplies like gloves, exam gowns, masks, needles and syringes. We carry a full line of high end equipments like treatment tables, autoclaves and stress test systems from brands like Midmark Ritter, Brewer, Cardiac Science and Welch Allyn with two fully stocked warehouses and sales staff that is well versed in the medical industry.
The company was founded in 2000, has revenues of USD 1-5 Million, has ~10 employees.
•
• (FDA Code: GAK / 878.4830)

An absorbable surgical gut suture, both plain and chromic, is an absorbable, sterile, flexible thread prepared from either the serosal connective tissue layer of beef (bovine) or the submucosal fibrous tissue of sheep (ovine) intestine, and is intended for use in soft tissue approximation.
•
•
•
•
• (FDA Code: FZM / 878.4950)

A manual operating table and accessories and a manual operating chair and accessories are nonpowered devices, usually with movable components, intended to be used to support a patient during diagnostic examinations or surgical procedures.
•
•
•
•
•
•
•
•
•
•
•
•
•
•
•
•
•
•
•
•
•
•
•
•
•
•
•
•
•
•
•
•
•
•
•
•
•
•
•
•
•
•
•
Edit or Enhance
this Company (
1619
potential buyers viewed listing,
934
forwarded to manufacturer's website)