Profile: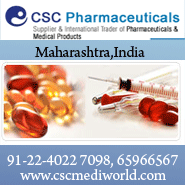 CSC Pharmaceuticals Limited specializes in the pharmaceutical and the healthcare industry. We distribute a full range of branded, comparator, controlled and rare to find pharmaceutical products. We are licensed by our FDA and Drug Controller India as a registered Wholesaler and Exporters of Pharmaceutical Products. Our main focus is to supply comparator products and drugs used to combat life-threatening conditions. We also export all types of surgical equipment and medical accessories to clinical laboratories, hospitals and disaster management operations.
Comparator Drugs for Clinical Trials
Our main business area of specialization is supply and project assistance for Clinical Trials and Research. We offer Innovators and Branded Products for Clinical Trials as Comparators.
We are focusing mainly on Oncology Trials since Oncology is the main area of Research for all organizations. Some of our product range includes oncology medicines, immunosuppressant drug, oncology injectables, immunosuppressant medicines, radiation oncology medicine, immunosuppressive drugs, and immunosuppressive drugs for kidney.
Branded Drugs and Pharmaceuticals
Our main areas of focus are Oncology, Multiple Schlerosis, Hepatitis, HIV - AIDS, and Immunosuppresants. Our brands include Mabthera, Herceptin, Avastin, Taxol, Alimta, Avonex, Gemcite, Neulastim, Eprex and Erbitux.
Vaccines
We are able to supply a wide range of Vaccines and Biological products like Anti Toxins and Sera. We are able to offer the following products including anti rabies vaccine, oral polio vaccine, hepatitis b vaccine, vaccines and serum, influenza vaccine, meningitis vaccine, and chicken pox vaccine.
Oncology Products
We provide variety of oncology drug products, anti cancer medicine, oncology products, oncology medicines, ovarian cancer drug, colorectal cancer drug, prostate cancer drug, lung cancer drugs, skin cancer drug, and breast cancer drugs.
24 Products/Services (Click for related suppliers)
•
•
•
•
•
•
•
•
•
•
•
•
•
•
•
•
•
•
•
•
•
•
•
•