Profile: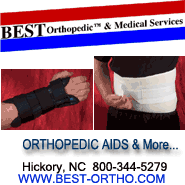 Best Orthopaedic & Medical Services provides a wide selection of orthopedic aids, which include Arm Supports, Back Supports, binders, Cervical Collars, Leg Supports, Pillows, Rib Belts and stress belts. Our cervical collars are made of contoured foam with self locking closure and an extra cover renders a comfortable fit for patients. Our disposable arm sling is made of blue disposable material with white straps that has a slide buckle for a universal fit & fits the right & left arm.
The company was founded in 1987, has revenues of < USD 1 Million, has ~10 employees.
Binders/Bariatric Supports | Industrial Belts |
• (FDA Code: FSD / 880.5160)
•
•
•
•
•
•
•
•
•
•
•
•
•
•
•
•
•
•
• (FDA Code: ILI / 890.3640)

An arm sling is a device intended for medical purposes to immobilize the arm, by means of a fabric band suspended from around the neck.
•
• (FDA Code: IOY / 890.3475)

A limb orthosis (brace) is a device intended for medical purposes that is worn on the upper or lower extremities to support, to correct, or to prevent deformities or to align body structures for functional improvement. Examples of limb orthoses include the following: A whole limb and joint brace, a hand splint, an elastic stocking, a knee cage, and a corrective shoe.
•
•
•
•
•
•
•
•
•
•
•
•
•
•
•
• (FDA Code: IQK / 890.3490)

A truncal orthosis is a device intended for medical purposes to support or to immobilize fractures, strains, or sprains of the neck or trunk of the body. Examples of truncal orthoses are the following: Abdominal, cervical, cervical-thoracic, lumbar, lumbo-sacral, rib fracture, sacroiliac, and thoracic orthoses and clavicle splints.
•
•
•
•
•
•
•
•
•
•
•
•
Edit or Enhance
this Company (
2489
potential buyers viewed listing,
2725
forwarded to manufacturer's website)