Profile: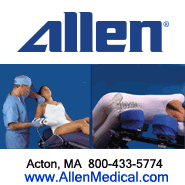 Innovative Patient Positioning Solutions for the OR Allen Medical Systems is a wholly owned subsidiary of Hill-Rom Holdings, Inc., (NYSE: HRC), a leading worldwide manufacturer and provider of medical technologies and related services for the health care industry. As an industry leader in patient positioning, our passion is improving patient outcomes and caregiver safety, while enhancing our customers' efficiency. Our inspiration comes from providing innovative solutions to address our customers' most pressing needs. We immerse ourselves in our customers' world, to better address these needs and the daily challenges of their environment. Whether we are developing a product to address patient positioning issues, or creating a system to protect the patient's skin during a long surgery, we are committed to providing products of exceptional quality. Allen products are backed by responsive and reliable service, starting with our 20 day risk-free evaluations, and complimentary on-site product demonstrations.
The company is ISO, CE certified. NYSE:HRC (SEC Filings)
•
•
•
• (FDA Code: FZM / 878.4950)

A manual operating table and accessories and a manual operating chair and accessories are nonpowered devices, usually with movable components, intended to be used to support a patient during diagnostic examinations or surgical procedures.
•
•
•
•
•
•
•
•
•
• (FDA Code: IOY / 890.3475)

A limb orthosis (brace) is a device intended for medical purposes that is worn on the upper or lower extremities to support, to correct, or to prevent deformities or to align body structures for functional improvement. Examples of limb orthoses include the following: A whole limb and joint brace, a hand splint, an elastic stocking, a knee cage, and a corrective shoe.
•
•
•
•
•
•
•
•
•
•
•
•
•
•
•
•
•
•
•
•
•
•
•
•
•
•
•
•
•
•
•
•
•
•
•
•
Edit or Enhance
this Company (
3686
potential buyers viewed listing,
1048
forwarded to manufacturer's website)