Profile: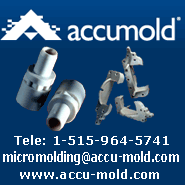 Accumold specializes in Medical application components. We provide high quality precision parts. We are an ISO 9001:2000 certified company. We also specialize in complex, reliable injection molded parts. We focus on industries that require fast turn around and complex parts for high tech industries such as Micro Electronics, Automotive, Fiber/Optics, Medical, Military, Emerging Markets and Technologies.
Tip
Our Tips contain a .010″ hole. They are clear and must be free of voids and bubbles. The thin wall section is .006″ and Very tough to fill with Acrylic.
Micro Mold Production
Molded Rotor
Tip
Shell
Battery Door
Molded Housing
Rotor Pinion
Star Wheel
We mold Battery Doors in several different colors. A stainless steel hinge pin has to snap into the .018″ groove. It is made with Lexan material.
Pupil Dilator
We mold two thin walls with very soft material. The wall thickness is .15mm. This part is used in optical laser surgery. It is made with Dow materials.
Plastic Transformer Support
We make three conversions with this small mold. The thick and thin sections in this part can warp, but we hold a perpendicularity call of .002″.
Small Parts Production
Molded Housing
Fiber Jack Interface Housing
Housing
Housing Rosa
Rosa
7 Products/Services (Click for related suppliers)
•
•
•
•
•
•
•
Edit or Enhance
this Company (
359
potential buyers viewed listing,
76
forwarded to manufacturer's website)